A single, affordable solution to manage your entire small business – from accounting and financials, purchasing, inventory, sales and customer relationships to reporting and analytics.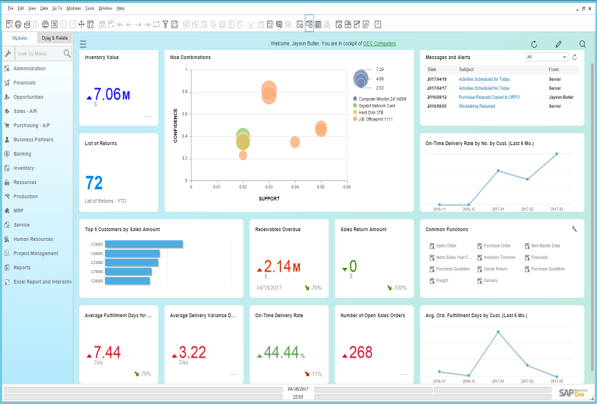 Gain greater control over your business or subsidiary with SAP Business One. Streamline key processes, gain greater insight into your business, and make decisions based on real-time information – so you can drive profitable growth.
Easy to set up and can be deployed in 2-4 weeks
Ideal for businesses with up to 250 employees
 65,000+ customers including 7K+ subsidiaries of large enterprises
 More than one million users
 Used by customers in 170+ countries in 28 languages
Localized for 50 countries
10,300+ companies run SAP Business One in memory on SAP HANA
More than 500 industry-specific add-on solutions built by partners
More than 1,000 solution partners
Some further solutions provided by SAP tailored to the needs of growing companies
SAP Business One – a single, integrated application for successfully managing small and
growing businesses and subsidiaries of large enterprises, available both on premise and
in the cloud
SAP Crystal Reports – allow companies to capitalize on complete report management
functionality
…
SAP Business One designed for all your small and midsize company's needs

Total control of your finances
Provides a complete set of tools to help Financial management manage and streamline your financial operation. It automates everyday accounting tasks such as maintaining ledger and journal entries, supporting tax calculations, and enabling multicurrency transactions.

Create a loyal customer base
Acquiring new customers is important for success, but maximizing customer relationships is just as crucial. SAP Business One provides the tools to help you efficiently manage the entire sales process and customer lifecycle – from initial contact to final sale, to after-sales service and support

Optimize buying and purchasing to increase margins
Every small business needs a systematic approach to managing the procurement process, from requesting vendor quotes, to creating purchase requests and paying vendors

Transparent inventory control and distribution
SAP Business One provides accurate information about inbound and outbound shipments, inventory, and item location. You can value inventory using standard costing, moving average, FIFO, and other methods; monitor stock levels; and track transfers in real time

See your business clearly with business intelligence, analytics and reporting
Provides powerful analytic and reporting tools. It includes a complimentary and fully integrated version of SAP Crystal Reports® for SAP Business One, so you can gather data from multiple sources and generate timely and accurate reports based on company-wide data.

Empower your people to make smart decisions faster
Empowers your employees to make smart, confident decisions, faster by capturing all critical information across sales, customers, operations, and finance – making it instantly available company-wide
As your business changes, a solid underlying foundation is critical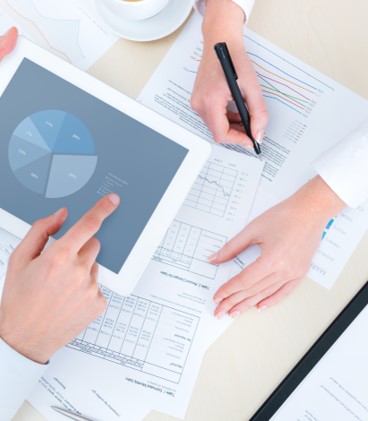 Digital Economy
You want to make the right business decisions at the right time, with real-time access to information.
You're growing
You are a fast growing company, and your needs are out-pacing your current system capabilities
As your business grows, you need to put best-practice processes in place
You need to automate your business processes, to increase productivity
Expansion
If you're expanding into new markets, you need business software that will enable, not hinder you
Competitive advantage
Become relevant in the global economy by implementing robust business process, thus allowing you to adapt to market changes, and anticipate business trends.
Connected business functions
Finance systems are connected to procurement and production. CRM is connected to marketing, sales and service.
Your entire business runs more smoothly by touching all areas of your business. This inspires natural cross departmental collaboration within your organization.
Easy access to data
Integrated analytics and reports should always keep informed on the health of your business
Better decisions can be made on the back of real-time data insights